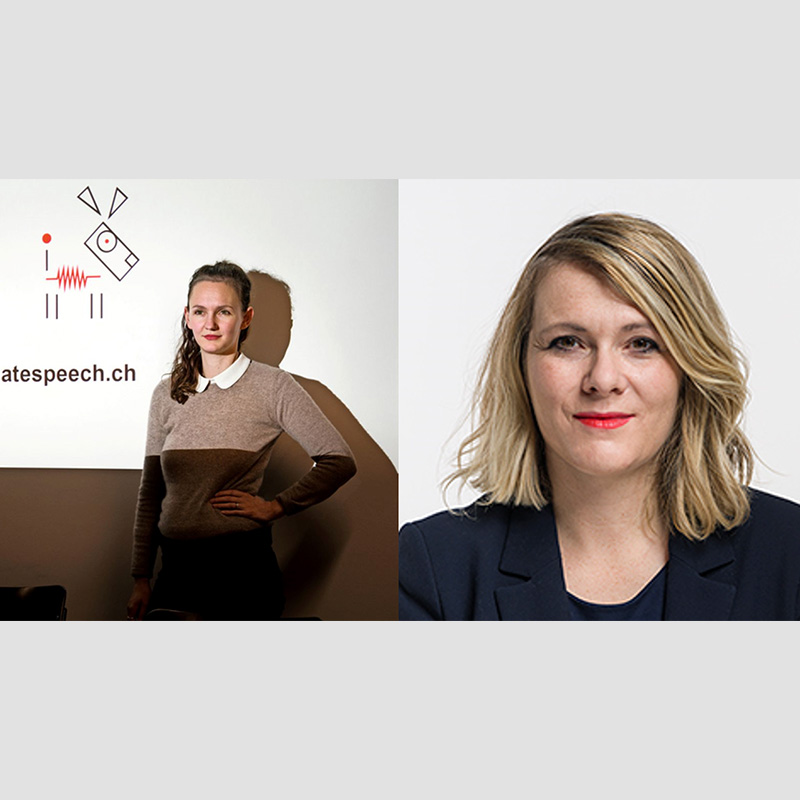 Sophie Achermann & Kathrin Bertschy
CEO
alliance F
Kategorie Innovation
Welche Bedeutung hat die Digitalisierung für Deine Karriere?
Sophie Achermann has been committed to fighting sexism on the internet for quite some time. As Switzerland's Youth Representative to the United Nations, she organized an extremely well received event on the increasing danger of online hate speech against women and raised awareness for the issue on an international level. A few years later, Sophie teamed up with Kathrin Bertschy, National Councillor and Co-President of alliance F (the Federation of Swiss Women's Organizations). Together, they successfully launched a project called Stop Hate Speech, which combats the problem of hate speech by combining on- and offline approaches. Since the start of the project, they have focused on using technical solutions to address socio-political problems (such as the under-representation of women in the media).
Unser diesjähriges Motto ist "Beyond next level". Wie kann Digitalisierung die Gesellschaft positiv verändern?
Part of the potential of digitalization lies in the fact that it can make social and political issues more visible. Issues such as sexism and hate speech have been permeating society all along, causing enormous distress to women and other groups that face discrimination. With digitalization, these acts of discrimination become more visible and, thus, can be tackled more easily.
Just as digitalization brings to light (and thus makes more tangible) the darker sides of people, it offers the opportunity for people to make themselves heard and find allies. Networks can now easily comprise thousands of (marginalized) people. These groups can organize themselves easily and unleash enormous potential. This is an opportunity we simply cannot miss.
Finally, digitalization can be realized as a great opportunity to make society more equal, for example in terms of gender-based discrimination and sexism. Innovative projects such as Stop Hate Speech require creativity and commitment – resources which women have in abundance!
It is vital that women help shape the digital revolution and participate equally with men, because together we can tackle problems better.
Das Projekt
Stop Hate Speech:
The idea underlying this project is simple: With the help of an algorithm, which has been taught by an active counter-speech community, online hate speech can be detected and rejected easily. With this combined approach, this global social problem is fought locally and innovatively.
May we introduce… BOT DOG! (see video)
A dog trained to detect hate speech represents the algorithm in an understandable and likeable way, both for our counter-speech community and for the general public. As a rescue dog, it is sent to social media to track down hate speech and retrieve it to our stop hate speech community. It's like a game – but better.
Bot Dog will accompany the community like a loyal friend and will help with guidelines and support. As soon as he has collected enough knowledge, he will report on where and how much hate speech is really infesting our platforms and even more importantly, which counter speech strategies are the right ones.
How do we go about this? In May an evaluation-tool was launched, on which the community is rating hate speech (a "tinder for hate speech": https://www.srf.ch/news/schweiz/hass-im-netz-ein-tinder-gegen-hate-speech). Bot Dog, the algorithm, will be trained on the basis of this information. As soon as Bot Dog is sufficiently well trained, he will go out on his own to search for hate speech in the internet and bring it back to the community. The community will react to the aggressions with counter-speech and try to actively improve the online discourse.
The platform which we will have established by October 2020 will fulfil even more objectives: targeted recognition, rejection of hate speech and collecting of statistical data on the type and distribution of hate speech. We effect the sensitization of society and enhance its ability to deal with hate speech competently. Finally, we will develop a software which can eventually be made available to news platforms. The plan is for all the knowledge to be brought together and programmed into a software that can be used by media companies. The software will not only recognize hate speech, but also contact the commentators directly and give them feedback if their comment contains hate. This should also have a learning effect on the commentary writers.
What else? In that we have found a fun and local way to combat an acute global problem, this project does pioneer work. Hate speech is a global issue – on the global space that is the internet, it literally happens 24/7 all around the world. However, due to the peculiarities of the respective languages and media landscapes of different countries, local customs must be taken into account – it can only be fought directly where it happens, which is why our volunteers are combatting hate speech on their own turf, giving them the satisfaction of changing the quality of discourse in their local media.