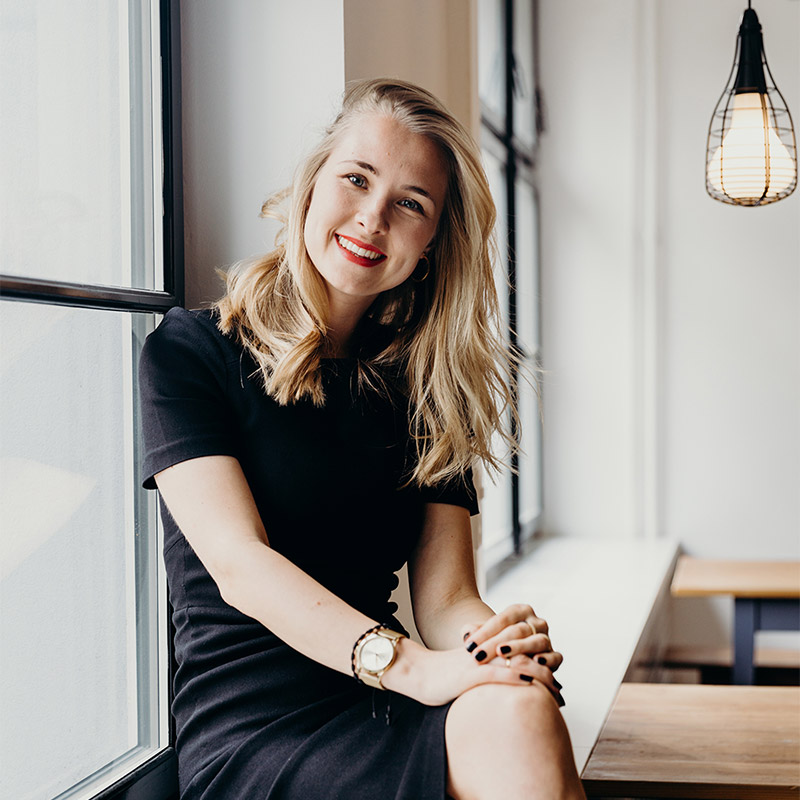 Linda Ambruster
Managing Partner
Spark Works AG
Kategorie Innovation
Welche Bedeutung hat die Digitalisierung für die Karriere Deiner nominierten Person?
As a trained Design Thinker and co-founder of Spark Works, Linda builds and leads research and training programs in the private and public sector, blending methods grounded in Human-Centered Design to inform and inspire insight-driven innovation.
Leading an interdisciplinary team Linda tackles complex innovation challenges and contributes insights and creative thinking to projects in the private and public sector.  However, we are living in the digital age, where although  technology has enabled many new possibilities, it often forgets to serve people's needs. Accordingly, technology in itself is useless unless we find an application for it where it solves a problem and/or creates value – that's where Linda comes in!
As well as working with organisations and lecturing at ETH, Linda has taught classes on DesignThinking at the HWZ as part of the CAS Fintech and Blockchain Economy. What does this topic have to do with Blockchain you might ask? Ultimately, such Fintech technologies are all about transforming processes to create more value for the business and its people. Developing such processes in the most effective way is where a design mindset can help. Therefore,  Linda makes sure organisations consider the system in which the technology will be embedded and prioritise the people who are supposed to adopt it. In this way, the user can truly benefit from digitalisation.
Unser diesjähriges Motto ist "Beyond next level". Wie kann Digitalisierung die Gesellschaft positiv verändern?
Digital tools have certainly taken many aspects of society to the next level. Take communication for example. Our grandparents had to write letters to communicate with a loved one abroad. Our parents called via phone lines and paid tremendous amounts per minute for international calls, but now they can talk to each other without delay. We have video calls, emails and instant messages now and a variety of providers and technologies to choose from. All for free and constantly available. The need is still the same (to communicate, share, belong) but the possibilities have increased and will continue to go beyond the next level.
Das Projekt
HOW DO YOU TAKE A 5000-YEAR-OLD UNESCO WORLD HERITAGE SITE AND INTRODUCE IT TO TODAY'S GENERATION? THE ANSWEr IS AUGMENTED REALITY.
Linda and her team have worked closely with Stadt Zurich on a digital project bringing the city's UNESCO world heritage site of lake dwellings to life in a new dimension through an augmented reality app. Although the site, located by Sechseläutenplatz, has been a part of Unesco for the past decade it has not reached the masses. In line with its 10th year anniversary, the city was keen to bring this historic site from the Neolithic and Bronze Age in Alpine Europe into new dimensions for the 21st century. Rather than creating a traditional exhibition Linda and her team recognised it was important to allow visitors to truly experience the site.
The team recognised the significant role technology could play to transform this site from a pen and paper exhibition to an interactive, immersive experience. However, before digitalising the exhibition could begin Linda's team carried out exploratory and qualitative user research to provide the city of Zurich with unexpected and surprising insights. Accordingly, Linda called on Bitforge, a leader in AR technology who took on the role of developing and implementing the app bringing these insights to life.
The final experience allows users to take a stroll through the digital 3D reconstruction of the pile-dwelling village in its original size. Users can discover artefacts, explore themed houses and pass information points.
Not only was this project a first for the city, but it was also an important step in helping the city of Zurich transform into a smart city. Creating interactive experiences like pastZurich is helping the city to make digital technology a part of our everyday lives in a way that is engaging, educational and feeding one's imagination.