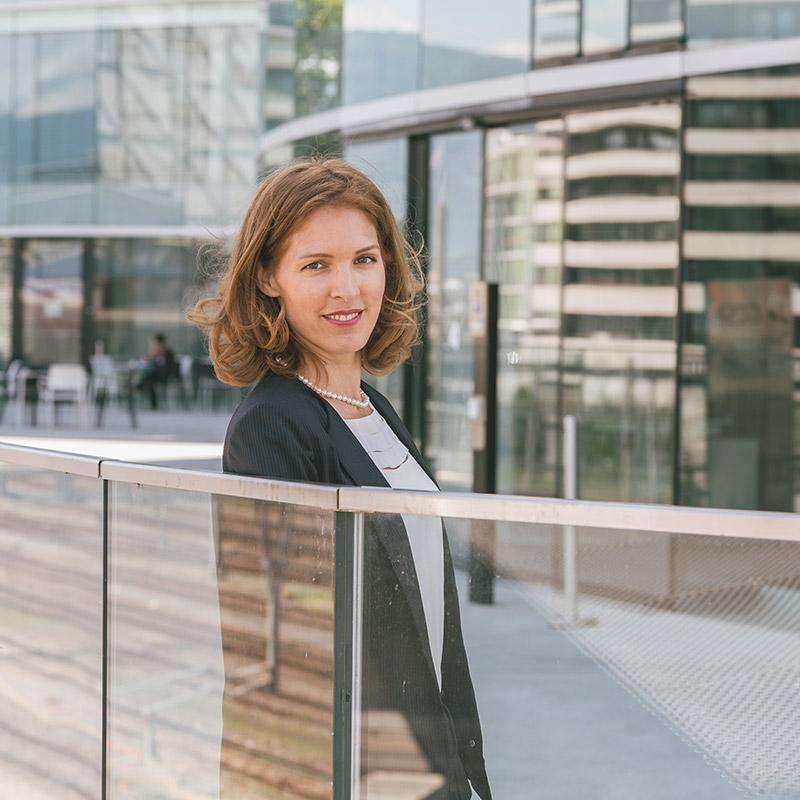 Anja Wyden Guelpa
CEO
civicLab
Kategorie Leadership
Welche Bedeutung hat die Digitalisierung für die Karriere Deiner nominierten Person?
Anja's career has always been linked to technology and the importance of driving digitalisation forward. Fascinated by innovation and change as the natural order of things, she began her career at the State Secretariat for Economic Affairs as project manager. She then went on to work for IBM Business Consulting as project manager. Prominently, Anja became the first woman to be appointed Chancellor of canton Geneva in 2009 and serves for two full terms. During her term, she focused on taking democracy to today's youth. She encouraged this movement through digital means such as online campaigns, countless talks (including a Ted Talk), and most prominently through the programme Institutions 3D. In addition to her work for the state, she also solidified her belief in digitalisation outside of politics. She did this by becoming a board member of The Swiss Digital Initiative which is a long-term, sustainable process to safeguard ethical standards in the digital world through concrete projects. It brings together academia, government, civil society, and business to find solutions to strengthen trust in digital technologies and in the actors involved in ongoing digital transformation.
Unser diesjähriges Motto ist "Beyond next level". Wie kann Digitalisierung die Gesellschaft positiv verändern?
Anja recognised that in Switzerland on average 70% of the 18 to 25-year old Swiss usually don't exercise their right to vote. With her passion for everyone to exercise the right to democracy, she introduced  The programme Institutions 3D. This is a 3D format for school children to learn the basics of political institutions. Ten-year-olds can try out being a parliamentarian in a playful but perfectly serious manner. The children prepare their own draft proposals and bring them to the parliamentary chamber where the issues are debated and voted on. (In line with digital tools, the motions are voted on using Ipads).
After almost nine years as state chancellor and member of the government, Anja decided to found her company civicLab.
Civic Lab works on improving innovation and corporate culture. The company helps organizations to become more competitive and attractive through the evolution of their corporate culture.
The company allows Anja to lead and steer creative processes and help executives and employees to excel and define with them very quickly optimal solutions by using design thinking and co-creation. Civiclab has worked with Facebook, PWC and stadtZurich to name a few
Das Projekt
When deciding which category to nominate Anja for it, the leadership award seemed like the perfect fit. Anja has spent more than 20 years in leadership positions across the private and public sections. Her most obvious show of leadership was her time as the first woman elected as Chancellor of State in Geneva in 2009, reelected for a second term in 2013. It is clear that she is a natural authority but, most importantly, recognises how her position can create positive change. This principle was definitely reflected when she ran for the post at 36. Her goal was to talk to people as equals, face to face, without patronising them. Young people and children are especially close to her heart.
To this point of educating the youth of politics, she linked the role of technology. Anja understood early only that digital tools are actually "digestible" for young people and more fluid than pen and paper.  As already addressed, Anja developed Institutions 3D, where teachers have an educational file to prepare a half-day visit to the Hôtel-de-Ville: here children get to do some role-playing. It's really something very exciting when 10-year-olds start to debate and tied to technology, they use ipads to carry out notions. In addition for young people aged 12-25 there is the Ciné-civic competition, where they make films encouraging other young people to vote.
Being in a position of power requires a level of responsibility. Anja embodies what it truly means to be a leader – using her power for good. In her case, her ambition was to show them how political decisions shape neighbourhoods, cities and the country where we live. Accordingly, her campaign, encouraging the youth to engage more with politics and for children, understand how the system works was a simple but effective step.